overview
Neotrope's interactive portfolios allow you to select elements from our project archive by main categories like print, web or other; then select from project categories like magazine advertisements, media kits, or Flash animation.
A pop-up interactive window (requires JavaScript active in your Web browser) will appear for each Folio selected. Each Folio is color-coded by main category, and navigation is simple and visual. See how to navigate, below.
Note: as of July 15, these interactive Folios are not yet completed. In the interim, you may wish to visit our Design Studio overview, and Web Site Design and Architecture overview for some samples of our design capabilities.
Folio:1 Print Projects
This portfolio contains examples of our print design projects over the past twenty years. This section includes periodical and catalog design, magazine covers, editorial illustrations, media kits, product packagaing, brand identity and logo design, catalog and sell sheets, brochures, newsletters, and more.
Folio:2 Web Projects
This portfolio contains examples of our Web design projects since March of 1995. Includes Web sites, Flash media, streaming audio/video, e-commerce, and more.
Folio:3 Other Projects
This portfolio includes examples of projects which don't fit into either of the above Folios. Projects include image retouching/alteration, press release writing, trade show booths, and more.

How to Navigate our Folios
By viewing the sample image below, you can see that the interactive pop-up window for the Folio has different navigation and content areas. On the left side is the project category menu for the particular Folio (dark grey). In most Web browsers, as the mouse touches each item, a description will appear in the bottom window. The center right window (black or white background color) is where examples are showm, and additional choices may appear. Depending on the type of project, the content in this window may scroll vertically or horizontally.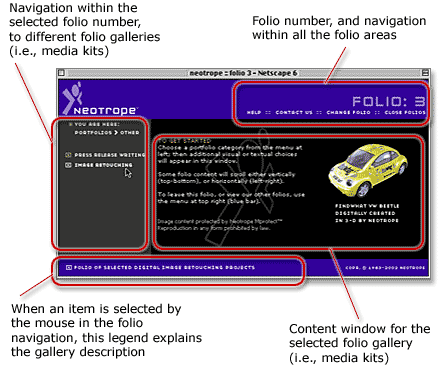 Note: content and images within our Folios are protected by the Neotrope Mprotect™ digital rights management system which combines robust watermarking with anti-copy technology. Re-use of materials within our Folios for any purpose is a violation of copyright law.