design studio
As a full service design shop since 1983, Neotrope offers a one-stop solution for every element of your graphic and e-media design needs. We offer in-house computer-based graphic design, film and digital product photography, copy writing and editing, film and art scanning, 3-D design, and much more.
We have an extensive library of over 75,000 "royalty-free" business-to-business and business-to-consumer images, and over 5,000 type faces to suit any kind of project. And we can re-purpose print design content to every kind of e-media format including ebook, Acrobat PDF, CD-ROM, DVD, and (of course) the Internet.
We combine traditional design expertise with modern technology and because of our vast experience across all media types, we can provide both existing companies and "start-ups" with effective collateral for almost any purpose. Below, you will find a brief outline of some of the design solutions we offer. For more extensive examples across multiple industries, please view our online portfolios.

Logo Design / Brand Identity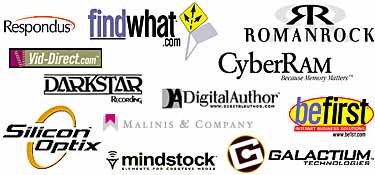 One of the most important aspects to your business identity is the logotype which identifies your brand on everything you communicate to your potential customers. Because your company name recognition relies on both the name itself, as well as the "look and feel" of the logo, we work closely with our clients to develop an identity that is professional and memorable. This process can include colors, type faces, emblems, and slogan development. For example, while developing the CyberRAM logo in 1997, we also invented their corporate slogan "Because Memory Matters" (they were a memory manufacturer, later bought by another company). We approach your brand from not only the design aspect, but how well the logo communicates your message.

Media Kits / Presentation Folders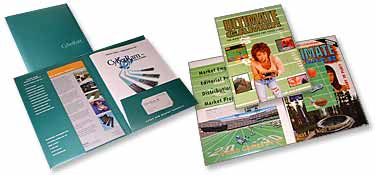 Many companies that promote their offerings to the media, to advertisers, and/or investors utilize a "media kit" which is a self-contained portraint of the company, its products/services, personnel, and more. These kits often contain write-ups, custom brochures, press releases, sample catalogs or periodicals, inserts like rate sheets, business cards, and similar collateral (marketing materials). Neotrope has developed award-winning media kits, including all of the content within the kit, for numerous companies. We can even create custom manufactured folders for special kinds of situations.

Brochures and Catalog/Sell Sheets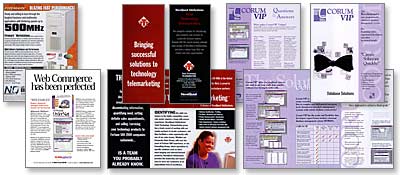 Because every company has different needs in promotional tools, Neotrope approaches each project with a wide range of options. From custom papers, folding and shapes, to traditional one-side full color catalog sheets, we can do it. And, again, because we also offer copy-writing, editing, photography, and brand identity services, we are truly a single source for your print design projects! We can also assist you with printing including short-run, and personalization. We can also provide mailing services and list rental, customer database merge/purge, and much more. (We only offer mailing services to print design clients.)

Newsletters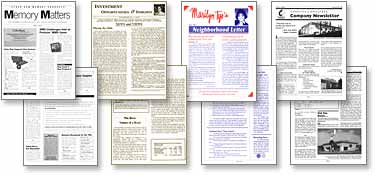 One of the most effective ways to keep in touch with customers, employees, and business partners, is the regular production of an information newsletter. Neotrope has extensive experience in deveoping newsletters for every kind of company, and for some we have created all of the content on a regular basis. We can easily take provided content in any form from printed sheets, word processor files, website text, or even hand-written and make your presentation look professional and engaging. We can provide printing and mailing services to support periodic publications, and can convert print newsletters to e-media like Acrobat PDF and web html for sending via e-mail.

Product Packaging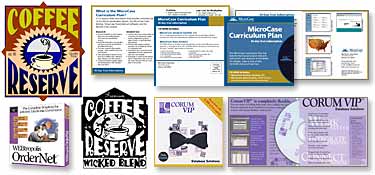 One of the most challenging design projects is that of product packaging. Often for certain kinds of products like food or oddly shaped items, the package shape itself can be a design element. Neotrope has produced numerous award-winning designs for software companies, food and gift retailers, independent record labels and musicians, and more. We can even assist companies with replication of CD-ROM, music CDs, and DVD. Because Neotrope is a member of the Uniform Code Council (UCC), we also are fully versed in the implementation of UPC/EAN and ISBN barcodes required on all retail packaging.

Magazine Advertisements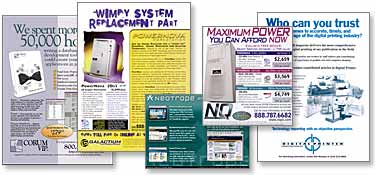 Ironically, now that the Internet "hoopla" has died down somewhat, many companies are rediscovering the value of advertising in print periodicals, newspapers, industry newsletters, and trade show programs. While similar to product sheets and brochures, magazine ads are sometimes more targeted with an immediate "call to action" such as a purchase promotion, toll free numbers, or other promotion message. Because the ad has a shorter viewing window (as long as it takes a reader to turn a page), it often must have a simpler, more clear and direct message than a brochure or sell sheet. As a working advertising agency, Neotrope can provide complete services when placing media buys in strategic markets. Neotrope president Christopher Simmons has won several Harvey Communication Measurement Awards for "most responsive advertising" within consumer-targeted computer magazines.

Catalog Design and Production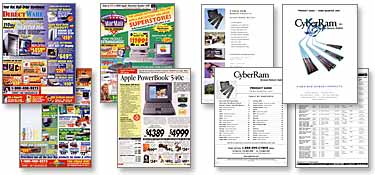 Neotrope is highly experienced in the design and production of business and consumer-targeted product catalogs. Because we understand every aspect of the production cycle, from photography and image conversion, product descriptions, SKUs and pricing, order forms, printing, and mailing, we are highly effective at managing these types of projects. Notably, Neotrope president Christopher Simmons was responsible for the design and production of the first year of the MacMall mail-order catalog (the first company ever authorized by Apple to sell Macintosh systems by mail). Whether your company needs to print 500 of a 16-page 2-color catalog, or two million copies of a 68-page 4-color national drop, we've been there and done that, and we're able to serve your needs no matter your size or budget. And because we've been doing e-commerce for over seven years, we can also develop solutions to migrate your print catalog to the Internet.

Magazine/Periodical Design, Art Direction and Production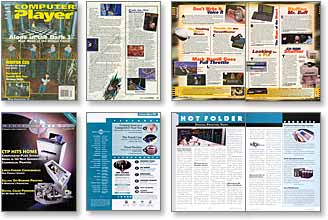 Neotrope president Christopher Simmons has personally designed the templates for several national trade and consumer magazines (QuarkXpress format). He has also served as a consulting art director for numerous publications including Computer Player, Digital Imaging, Digital Printer, Micro Publishing News, Print on Demand Business, and Ultimate Gamer. Additionally, Neotrope has several production artists and editorial professionals who are "on call" for as-needed or contractual production work. Why manage your own in-house staff, equipment, software and proofing — when we can do it all for you for less money? Naturally, we can also re-purpose your print files to the Internet.

Other Design Services
We also provide design services for these traditional categories:
Stationary (Business Cards, Letterhead, Envelopes)
Book Jacket and Internal Page Design
Software Manuals and Instruction Booklets
T-shirts and Personalized Products (Mugs, Balloons, etc.)
Annual Reports and Investor Profiles
Postcards and Self-Mailers
Posters, Banners, Decals
If it needs a design, or to be made production-ready ... we can do it!

Neotrope is a full service design shop!
In case you haven't figured it out by now, Neotrope is an established, experienced, and highly-capable design studio. From print to web, we can provide you with the solution you need, and we can work within your budget. Find out how we can provide design and brand image solutions for your company: simply take five minutes to fill out our request for proposal.

Notice: Certain elements shown in the portfolio examples on this page are copyrighted by the company shown, and may display trademarks and/or registered trademarks. Use of these elements is not intended to infringe on any legal rights, nor is their use here intended to imply an endorsement or recommendation. All content shown was developed and designed by Neotrope, the company formerly known as Mindset. Reproduction in whole or in part is strictly prohibited.